The future Is here: Assistive technology for learning disabilities
Equal learning and personal development opportunities help ensure everyone reaches their highest potential. However, it is important to look at comparable needs. People with learning disabilities can require individual or additional services from a school program. According to the National Center of Educational Statistics, in 2019 – 2020, 14% (7.3 million) of children from 3 to 21 received special education services in the US. One-third of them had various learning disabilities that required specific assistance and tools.

This article explores various types of learning disabilities and the importance of assistive technology in the classroom. If you or someone close to you has a learning disorder, we have included the top tools for students to help them with their education.
❓ What is a learning disability?
Specific learning disabilities are disorders in the basic human psychological processes. These mechanisms should help people understand or use language in writing and speaking. But due to atypical functioning, some of us have difficulty thinking, hearing, speaking, reading, writing, spelling, or undertaking mathematical calculations.
Learning disabilities can affect all facets of life, not just studies or intellectual activities.
Learning difficulties can impede the ability to focus, be attentive, organize oneself, plan one's time, or abstractly reason. Personal and workplace relationships can be affected too.
People are often diagnosed with learning disabilities during their school years, as problems with writing, math, or focusing can show up in a group of same-age children. However, some people enter adulthood, never realizing that they may have learning difficulties. Parents and teachers may think the student is lazy, impatient, or lacks the motivation to study. People may have problems at the workplace and in families because they are unaware they have a learning disability.
Dyslexia is the most common learning disability. In America, 5 to 15% of the population (according to different estimates), or every 10th US citizen, has dyslexia.
Types of learning disabilities
Below is a list of most common learning disabilities and their associated conditions.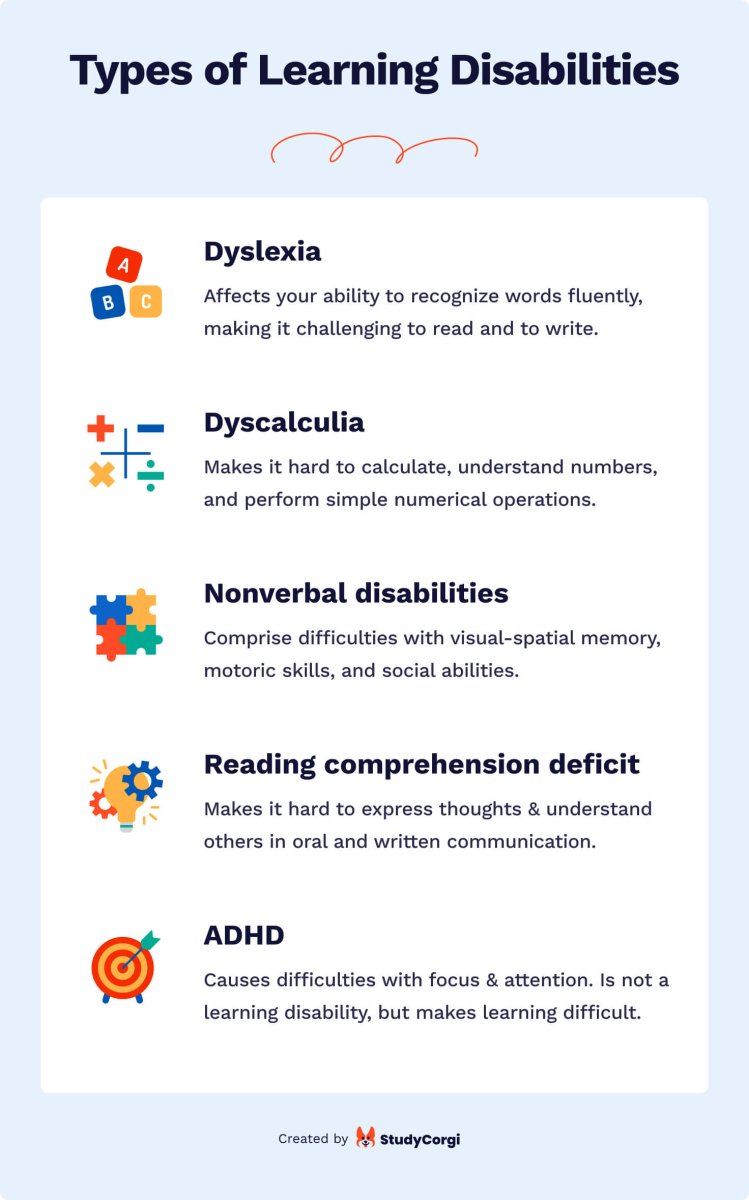 Dyslexia. If you have severe trouble with spelling, you may have dyslexia. This specific learning disability primarily affects your ability to recognize words fluently. Reading and writing can be challenging tasks.

Dysgraphia is a sub-type of dyslexia. It impairs a person's writing skills: they struggle with producing legible and correct symbols.

Dyscalculia makes it hard to calculate and understand numbers and use nonverbal processes to perform numerical operations. As a result, people with dyscalculia have difficulty with quantitative reasoning. This can make math challenging.

Nonverbal learning disabilities comprise visual-spatial memory, motoric skills, and social abilities. People with this spectrum of disorders usually have excellent language skills and an extensive active vocabulary.

Oral and written language disorders and reading comprehension deficits make it difficult for people to express themselves and understand others in oral and written communication. For example, the sentences "The cat is on the pillow" and "The pillow is on the cat" can be equal for people with this learning disability.

ADHD is not a learning disability in itself. However, this disorder heavily affects the learning abilities of children. It can be hard for them to focus, pay attention, sit still, etc. 30 to 50% of children with ADHD also have other specific learning disabilities.
These disorders are incurable, given the current state of medicine. However, with proper assistance and individualized training, people can limit the impacts of their learning difficulties. Consider the following examples. Keanu Reeves and Tom Cruise are dyslexic. Justin Timberlake has ADHD. Cher is dyscalculic. These disabilities make them who they are, and they would not prefer to be "typical" humans.
👨‍🎓️ Assistive technology in the classroom
Imagine the broadest category of assistive technology in the classroom you can, and it will not comprise the diversity of modern facilities.
Assistive technologies range from special-form pencils and tactile rulers to artificial intelligence.
Because of the growing number of people diagnosed with learning disabilities, these technologies are rapidly developing.
Researchers from Southern California have designed a robot to help children with autism spectrum disorder (ASD) with math and social skills. The device can tell if the child listens in class or is lost in their thoughts. Such inclusive technologies allow children with learning disabilities to attend regular schools without a tutor.
Many modern schools use augmented and virtual reality to engage students and visually represent the material. The technologies can also assist students with disabilities by creating simulated environments. The best feature of AR and VR is the opportunity to study free from the constraints of their learning disorders.
The positive features of assistive technology in the classroom are multiple. Some of the AT advantages are listed below.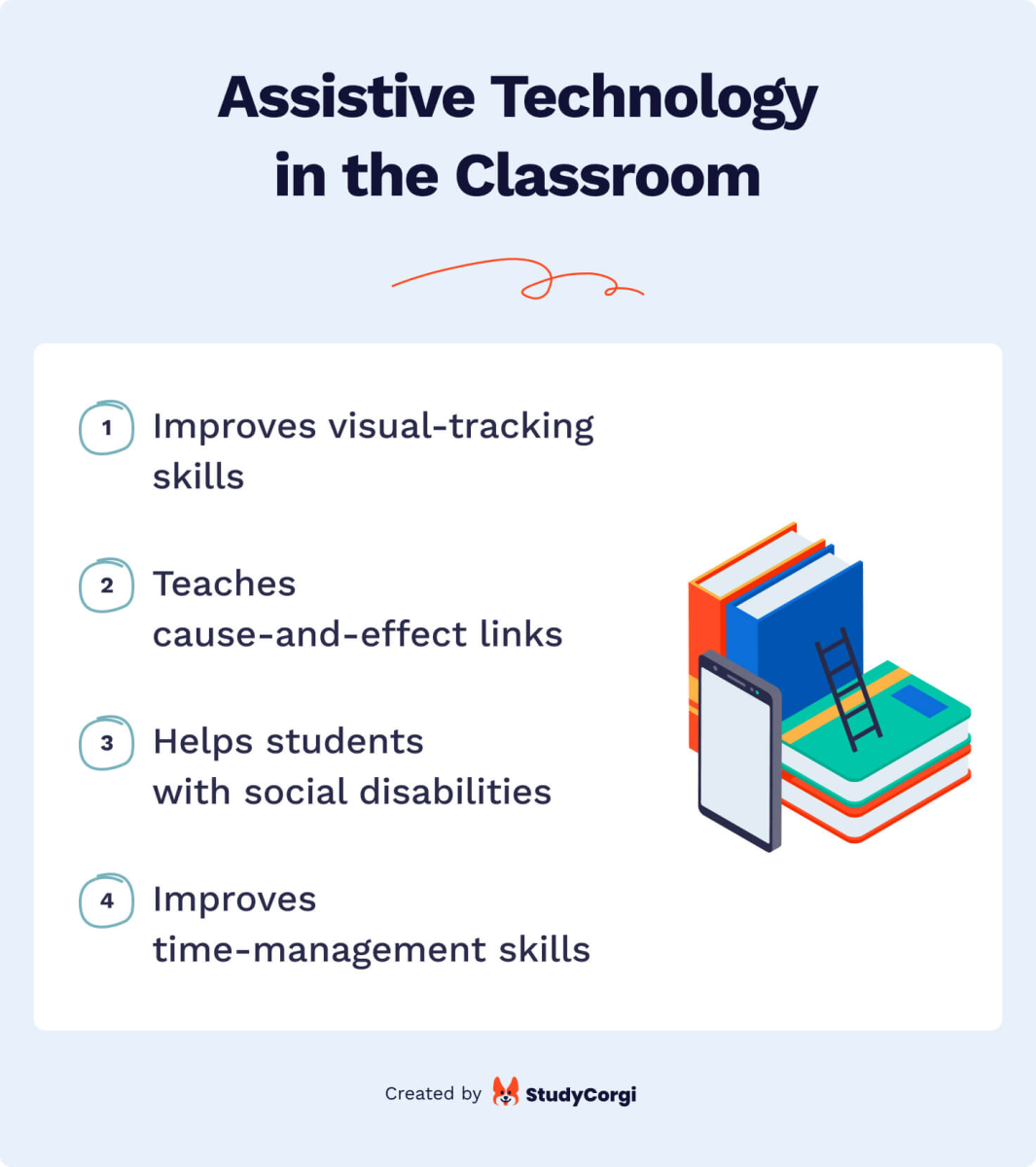 The key benefits of AT in the classroom:
AT improves visual tracking

It teaches cause-and-effect links

It allows group instructions for people with social disabilities

It trains fine motor skills

It improves time-management skills
📐 Assistive technology for learning disabilities: Benefits & tools
Assistive technology for learning disabilities is any equipment, software, or product that can maintain or increase the capabilities of people with disabilities.
AT includes speech recognition and text-to-speech software, mind mapping strategies, touch typing, apps, and handheld devices.
We have collected the best tools to assist people with various learning disabilities, from simple to high-tech solutions. They can help you with your reading, writing, spelling, calculations, memorizing, timing, and self-organization.
Assistive technology for dyslexia
Text-to-speech software helps people with dyslexia read and analyze text in digital format. Hearing their writing being read aloud in a natural voice allows them to proofread and work on their mistakes.
Research has shown controversial results regarding the efficiency of text-to-speech tools for dyslexic students. Some experiments on how the technology improves text understanding had mixed results. The findings showed that the instruments might not influence human comprehension significantly. However, the students surveyed reported increased independence as a considerable benefit. Another two studies found that students' motivation to read, as well as their fluency, grew over the six weeks of reading with a text-to-speech tool. In any case, learning disabilities vary significantly between individuals, and so do the effects of assistive technologies.
There are ways to get the most out of text-to-speech tools.
Find the right voice for you based on your individual preferences.

The more "human" it sounds, the better your comprehension will be.

140 to 180 wpm is the best reading speed for students.

Do not accelerate to finish reading faster. You may lose your trail of thought.

Choose a tool with bi-modal reading settings. They highlight the word being read aloud.

Do not multitask and follow the written text with your eyes to get the best results.
Top text-to-speech tools
Most computers and mobile devices have pre-installed variants of text-to-speech software. However, here are some tools worth your attention:
Kurzweil 3000
In terms of functionality, Kurzweil 3000 is the most comprehensive option. The only drawback of Kurzweil 3000 is that it is not free.
It has lots of customizable functions, helpful pop-up tips, and an intuitive interface that makes it the best choice for people with dyslexia. Its unique features include a word prediction tool, talking spell checker, translator tool (foreign language voices can be downloaded free of charge), writing templates, and a cloud-based library.
Price: $500 for a one-year subscription. Discounts are available for multi-year orders.
Natural reader
Select Natural Reader if you would like to strike a balance between price and quality. Natural Reader offers almost every possible text format, from web pages to your email inbox. The developers focused on small but critical features to make the program stand out from similar software. For example, you can edit the pronunciation of certain words or opt out of reading headings and footnotes.
There's no need to buy a yearly subscription. You pay only once. There is even a free version with limited functionality to try out.
Price: $99.50 to $199.50, depending on the selected number of natural voices and additional features.
Read my paper
Read My Paper is simple, quick, clear, and free of charge. You won't have to explore extensive settings, like in more complex software. Copy a text (from 100 up to 5000 characters) from any source, insert it in the blank field, and enjoy the audio. The only adjustable features are the reading speed and the voice type.
Note that it is the best solution to quickly self-check your writing.
Price: Free.
Assistive technology for math
People with learning and attention disorders can have problems with math. Math assistive technologies (AT) can enhance the academic progress of people with dyscalculia and similar issues.
Did you know that a conventional calculator and grid paper are considered AT? The former is a low-tech AT, and the latter is a no-tech AT (along with large-number papers and rulers). No-tech AT also includes manipulatives. These physical or virtual objects help people solve mathematical tasks in alternative ways.
Notation tools, graphic organizers, digital graphing tools, and drawing tools are the best assistive technologies for math.
They teach you to think critically and manipulate numbers. In the future, it will allow you to pay the bills, calculate your income, create budgets, arrive at work in time, and decide how much wallpaper you need to buy to renovate your apartment.
Today, lots of AT tools for math are based on computer platforms. These include text-to-speech apps, built-in AT on mobile devices (tablets and smartphones), and math extensions for your Chrome browser. Below you will find the top 3 assistive tools for math.
Top math tools
Khan Academy Kids

The app has over 1 million installs and is

free

. Experts of the Stanford Graduate School of Education designed it to help people learn math with cute animal characters. Its features can help you develop reading and writing skills, language proficiency, problem-solving, and even social skills.

Marble Math Junior

This math practice app for iOS costs

$3.99

. The learning process is arranged in fun mazes. The questions can be voiced for people who have trouble understanding written text. You can customize the tools to your abilities with three difficulty levels and 16 marble styles.

Moose Math

Engage in mathematical adventures with this

free

app to learn addition, subtraction, geometry, sorting, and many other life skills at home. You need to complete five activities at different levels to get scores and build your own city. The record card will help you track your progress and motivate you.
Assistive technology for memorizing & note-taking
AT for memorizing and note-taking is especially helpful for people with ADHD or dyslexia. These assistive technologies can be subdivided into recording devices and mind mapping tools.
Recording devices (dictaphones or voice recorders installed on most smartphones by default) can eliminate the need to take written notes during lectures.
Record the professor's voice and listen to the class at your convenience as many times as necessary. In addition to lessons, you can record your thoughts before preparing an essay or term paper.

Mind mapping tools visualize and structure your thoughts. It is the most popular brainstorming method, but you can also use it to take brief lecture notes. There is no need to write long sentences that you will probably never read again. Draw a diagram with words in circles or rectangles schematically related with arrows or lines. Later you will recall the message of the lecture and even its structure. This is the perfect way to prepare for exams and memorize essential material.
Best memorizing & note-taking tools
Assistive technology for time management & focus
Apart from dyslexia and dyscalculia, some students have problems with concentration and attention. ADHD (attention-deficit hyperactivity disorder) is a scope of symptoms that can impair focus. It affects the brain's executive functions. Learning can become a challenging task for some students. Moreover, it is often accompanied by a learning disability. Below you will find four tools to help improve attention and concentration. Anyone can benefit from these apps.
Best time-management tools
Technology is changing the way we learn and enhancing, improving, and supporting people with learning disabilities and difficulties. We hope this article has been helpful. If you have anything to share, we would love to hear from you in the comments.
🔗 References
Credit to: https://studycorgi.com/blog/assistive-technology-for-learning-disabilities/
By StudyCorgi