20 Waterfront cottages, cabins, and yurts for your next fishing excursion
From trout and salmon to bass, spring in Pennsylvania is a reel-y great place to kick off the fishing season. Make your fishing adventure a true escape with a stay at one of these 20 unique waterfront campsites.
Know before you go: We recommend contacting your destination before your visit for their latest rules and regulations. Find up-to-date COVID-19 traveler resources on the visitPA website.
1. Fishing Creek & Captain Jim Shotwell's Dam Cottage
Shickshinny
Nestled along Huntington Creek, the fully restored Dam Cottage which dates back to the 1800s, offers all the modern amenities including WiFi and cable TV. Sit back, unwind, and enjoy the creek's flowing waters from the cottage's waterfront patio or relax by the cozy indoor fireplace. Kayaks, canoes, and aluminum fishing boats are included, and you'll also have access to Fishing Creek, home to some of the best trout waters in the state!
2. Cook Forest State Park & Cook Riverside Cabins
Cooksburg
Located in the heart of Cook Forest State Parkright along the Clarion River Water Trail – Pennsylvania's 2019 River of the Year, Cook Riverside Cabins offer a bit of rustic elegance for up to 12 of your nearest and dearest. The river and its adjacent public lands are an outdoor paradise for hikers, bikers (the non-motorized kind), wildlife watchers, and picnickers, along with some of the best trout fishing to be had in PA!
3. Sinnemahoning Creek & Camp Eagle's Nest
Driftwood
Located just yards from the banks of Sinnemahoning Creek and the Sinnemahoning Water Trail, Camp Eagle's Nest is a family-friendly getaway for anglers and outdoor enthusiasts of all stripes. The 100-year-old cabin has been completely modernized, complete with an expansive, beautifully updated kitchen. After a day of fishing for trout and smallmouth bass, relax by the fireplace. Be sure to check out the nearby Driftwood Saloon and Grill to enjoy a great meal sitting on the largest covered deck in the heart of the PA elk country.
11. Pine Creek & Eagle Bend Lodge
Wellsboro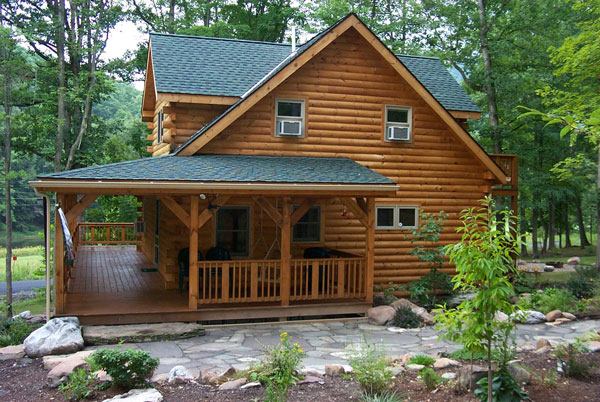 Surrounded by woods with Pine Creek and the 20-mile Pine Creek Rail Trail just steps away, Eagle Bend Lodge offers the best of all worlds – great fishing, wonderful nature watching, and all the modern amenities. After a day fishing the popular creek, sit back and relax on the expansive porch of this rustic, but completely modern four-bedroom log cabin – a perfect fishing getaway to one of the state's most scenic destinations.
12. The Cottage at Honey Creek
Reedsville
The Cottage at Honey Creek is situated on a beautiful, class A stream often described as a scaled down version of its more famous larger twin, Penns Creek. The quaint but modern cottage was recently completely renovated from top to bottom and includes all the modern amenities, as well as two decks overlooking the creek – perfect for nature watching or just the creek flowing by. The home is close to the village of Reedsville where you'll find fine dining and a wine bar to close out your fishing-filled weekend.
13. Pymatuning Reservoir & Modern Cabins at Pymatuning State Park
Jamestown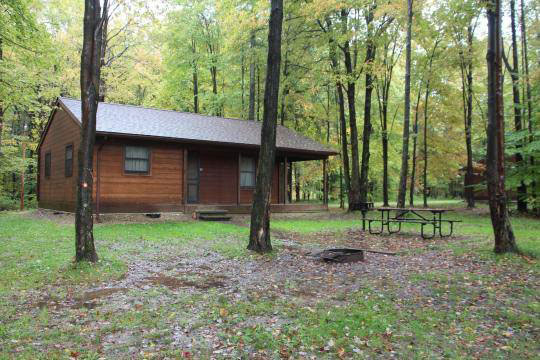 Pymatuning Reservoir is an angler's dream. This 17,088-acre warm water fishery sports walleye, muskellunge, carp, crappie, perch, bluegill, and largemouth and smallmouth bass. The ADA-accessible modern cabins in Pymatuning State Park are the perfect place to unwind after a long day reeling in the big ones. Located along the waterfront, each cabin has a furnished living area, restroom, separate bedrooms, and a fully equipped kitchen.
14. Tuscarora Lake at Tuscarora State Park & Camping Cottages and Yurts at Tuscarora State Park
Barnesville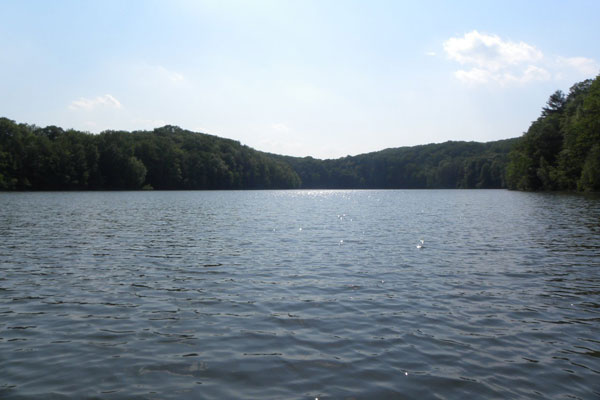 At 96 acres, Tuscarora Lake is not the biggest fishing hole in PA but still boasts plenty of opportunities for anglers in pursuit of yellow perch, bass, catfish, muskellunge, or pickerel. The ADA-accessible cabin cottages and yurts at Tuscarora State Park are the perfect place to unwind after a long day out on the water – both options have electric heat, lights, and outlets with a shower house nearby. Be sure to spend some time checking out the antique shops, breweries, local bakeries, and restaurants in the nearby historic town of Tamaqua.
15. Yellow Creek Lake & Camping Cottages and Yurts at Yellow Creek State Park
Penn Run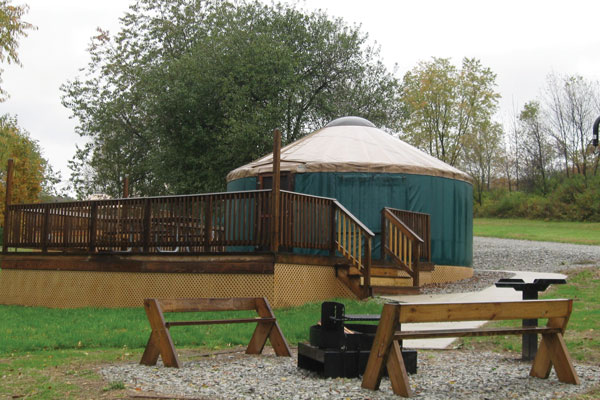 Yellow Creek State Park is a gem for anglers. The 2,981-acre state park's overnight accommodations include six ADA-accessible camping cottages and four yurts, each sleeping five people. The 720-acre Yellow Creek Lake is well-stocked with most warmwater game fish and panfish, including smallmouth and largemouth bass, walleye, muskellunge, northern pike, tiger muskellunge, yellow perch, bluegill, and catfish. Looking to extend your stay? Check out nearby Laurel Run, Yellow Creek, and Little Yellow Creek as additional spots for excellent trout fishing.
20. Juniata River & Milepost 142
Thompsontown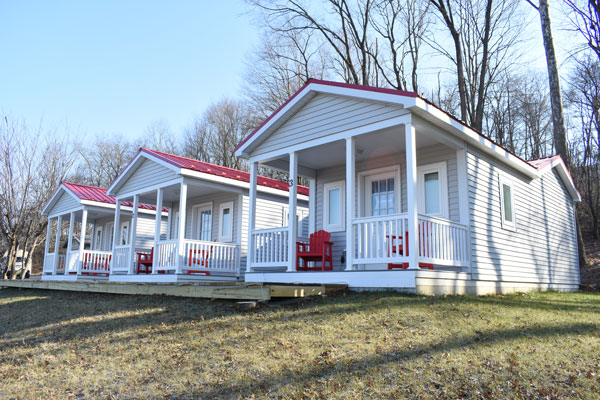 With the Juniata River and expansive woods in the backyard, Milepost 142 is a fishing, nature, and train-lovers dream! Walk to the river's edge for your fishing excursion – just keep your eye out for trains as 40 to 50 pass by each day! Book one of the three modern, yet cozy two-room suites. After your day on the water, relax and unwind on the cottage's front porch viewing local wildlife, marveling at the Tuscarora Mountains, or simply watching the trains go by.
For more go-to fishing spots in Pennsylvania, check out the visitPA website. Be sure to follow us on Facebook, Twitter, and Instagram for more inspiration. Don't forget to sign up for our monthly Happy Thoughts e-newsletter so you never miss an update.